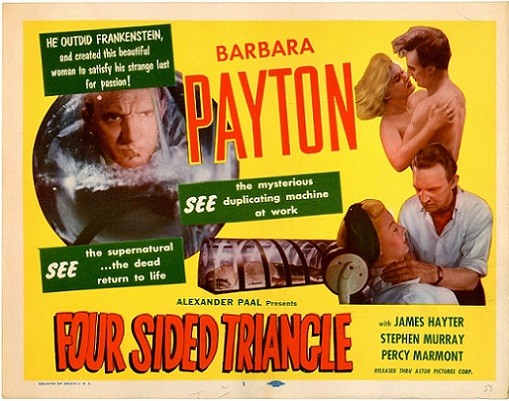 FOUR SIDED TRIANGLE
Année : 1953
Réalisateur : Terence Fisher
Scénario : Paul Tabori & William F. Temple (d'après son roman)
Production : Hammer Film Productions
Musique : Malcom Arnold
Pays : Royaume-Uni
Durée : 81 min
Interprètes : Barbara Payton, James Hayter, Stephen Murray, John Van Eyssen, Percy Marmont…
Ce sont les récentes polémiques autours du teaser de STAR WARS VII, LE RÉVEIL DE LA FORCE (2015) qui m'ont donné envie d'inclure ce beau film anglais de SF, explorant la complexité du clonage humain, dans la rubrique du « Drive-in ».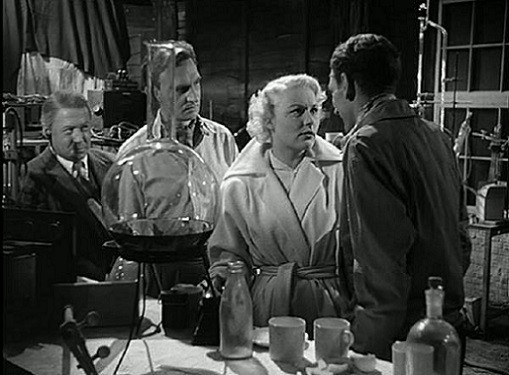 Avec FOUR SIDED TRIANGLE, la Hammer Films se lança dans la vague de SF cinématographique des années 50. Réalisé par Terence Fisher à Bray Studios à Londres, le film est une fable morale sur fond de science-fiction adaptée du roman éponyme de William F. Temple.
L'intrigue : Bill et Robin sont deux amis d'enfance qui aiment Lena. À l'âge adulte, les deux hommes collaborent à l'invention d'une machine qui peut reproduire des doubles d'objets. Mais Lena réapparait et fait revivre aux deux hommes leurs anciens sentiments. Ils abandonnent leur travail et tandis que Robin et Lena s'aiment et ont l'intention de s'épouser, désespéré, Bill entreprend de créer un double de Lena. L'expérience réussit, et Bill créer une femme semblable à l'originale qu'il nomme Helen. Ainsi vient de se créer le fameux triangle à quatre côtés du titre, mais malheureusement l'expérience a engendré une copie trop conforme de Lena puisque Helen tombe elle aussi éperdument amoureuse de Robin…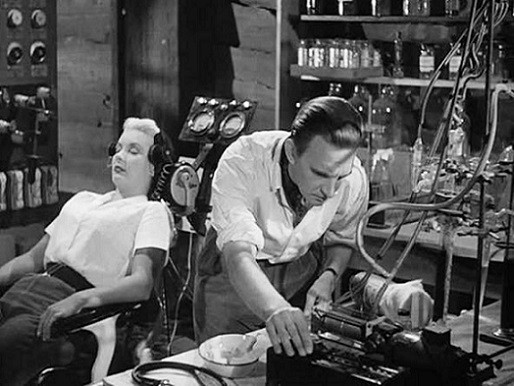 FOUR SIDED TRIANGLE est un excellent film de SF dont la superbe imagerie de laboratoire scientifique, ainsi que le sujet, anticipent beaucoup sur LA MOUCHE NOIRE (1958, The Fly) de Kurt Neumann, bien que le film de Terence Fisher ait été tourné en noir et blanc. Mais je vous laisse en juger par vous même.
FOUR SIDED TRIANGLE EN ENTIER ET EN V.O. :
Autres articles publiés dans la catégorie Drive-in :
L'Oasis des Tempêtes / It Conquered the World / The Giant Claw / Bataille Au-Delà des Étoiles / Attack of the Fifty Foot Woman / Cat-Women of the Moon / Le Fantôme de l'Espace / Mesa of Lost Women / Gorilla at Large / The Amazing Colossal Man / The Beast with a Million Eyes / The Astounding She-Monster / The Deadly Mantis / La Fiancée du Monstre / Not of this Earth / The Night the World Exploded ! / Viking Women and the Sea Serpent / Curse of the Faceless Man / Le Peuple de l'Enfer / Rodan / Supersonic Saucer / World Without End / La Fille du Docteur Jekyll / The Monster that Challenged the World / Baran, le Monstre Géant / Frankenstein's Daughter / Giant from the Unknown / I married a Monster from Outer Space / How to make a Monster / J'enterre les Vivants / The Manster /King Dinosaur / Les Envahisseurs de la Planète Rouge / Ring of Terror /This is not a Test / Le Monstre vient de la Mer / La Cité  sous la Mer / The Beast of Hollow Mountain / Le Labyrinthe / L'Île Inconnue / Bride of the Gorilla /Lost Continent / La Légion du Désert / The Astro-Zombies / El Extraño Caso del Hombre y la Bestia / Le Renne Blanc & La Résurrection de la Sorcière /The Vampire & The Return of Dracula / Le Lac de la Mort / Teenage Caveman / Drive-in spécial Mars /Dans les Griffes du Vampire /The Monster of Piedras Blancas / La Tête Vivante / Destination Planète Hydra / Incubus / Les Monstres de l'Apocalypse / The Golden Bat / The Flying Saucer / Unknown World
Rejoignez le groupe des Échos d'Altaïr IV sur Facebook !