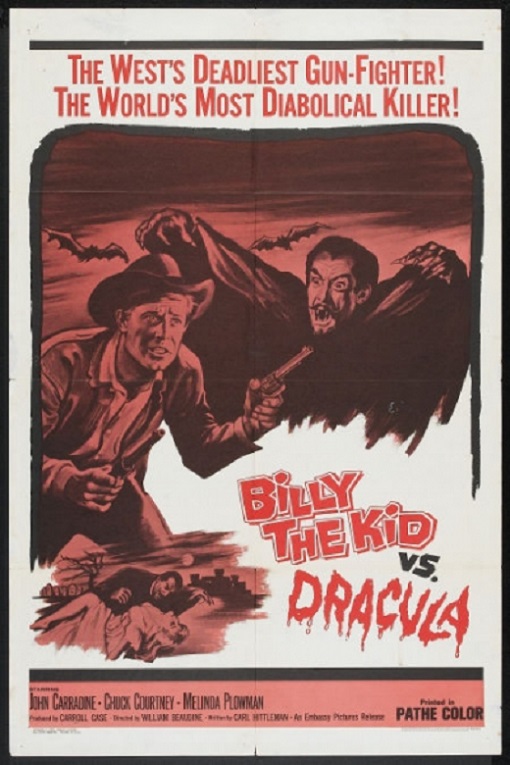 BILLY THE KID VS DRACULA 
Année : 1966
Réalisateur : William Beaudine
Scénario : Carl K. Hittleman
Production : Carroll Case
Musique : Raoul Kraushaar
Pays : États-Unis
Durée : 73 min
Interprètes : Chuck Courtney, John Carradine, Melinda Plowman, Virginia Christine, Walter Janovitz…
L'intrigue : Le comte Dracula traverse l'Ouest américain dans l'intention de faire d'une propriétaire d'un ranch sa prochaine victime. Son fiancé, le hors-la-loi Billy the kid, devra la sauver des crocs du saigneur de la nuit…
Voici finalement le retour du western gothique dans ce Drive-in, après DANS LES GRIFFES DU VAMPIRES (1959) d'Edward Dein. Bien qu'avec William Beaudine, on se retrouve toujours dix marches plus bas, au niveau de la qualité.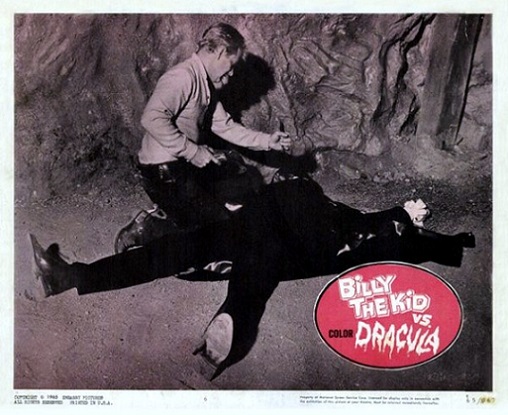 Tournés la même année par Beaudine dans un ranch californien, BILLY THE KID VS DRACULA et JESSE JAMES MEETS FRANKENSTEIN'S DAUGHTER sont un peu du même acabit : des décors de Far-West, une petite ambiance mexicaine, des cowboys et un vampire d'un côté et la petite-fille exilée du célèbre baron suisse.
En prime, John Carradine alors très âgé, incarne le vieil aristocrate des Carpathes en plein Far-West. Un Dracula forcément trop âgé pour être crédible, d'autant que William Beaudine ne rattrape pas son sujet avec sa réalisation plate et classique. On ne peut que lui préférer sa participation à la série avec Bruce Lee, LE FRELON VERT (1966-1967, The Green Hornet), à la même période.
- Trapard -
BILLY THE KID VS DRACULA en entier et en V.O. :
http://www.dailymotion.com/video/x18d6kl
Autres articles publiés dans la catégorie Drive-in :
L'Oasis des Tempêtes / It Conquered the World / The Giant Claw / Bataille Au-Delà des Étoiles / Attack of the Fifty Foot Woman / Cat-Women of the Moon / Le Fantôme de l'Espace / Mesa of Lost Women / Gorilla at Large / The Amazing Colossal Man / The Beast with a Million Eyes / The Astounding She-Monster / The Deadly Mantis / La Fiancée du Monstre / Not of this Earth / The Night the World Exploded ! / Viking Women and the Sea Serpent / Curse of the Faceless Man / Le Peuple de l'Enfer / Rodan / Supersonic Saucer / World Without End / La Fille du Docteur Jekyll / The Monster that Challenged the World / Baran, le Monstre Géant / Frankenstein's Daughter / Giant from the Unknown / I married a Monster from Outer Space / How to make a Monster / J'enterre les Vivants / The Manster /King Dinosaur / Les Envahisseurs de la Planète Rouge / Ring of Terror /This is not a Test / Le Monstre vient de la Mer / La Cité  sous la Mer / The Beast of Hollow Mountain / Le Labyrinthe / L'Île Inconnue / Bride of the Gorilla /Lost Continent / La Légion du Désert / The Astro-Zombies / El Extraño Caso del Hombre y la Bestia / Le Renne Blanc & La Résurrection de la Sorcière /The Vampire & The Return of Dracula / Le Lac de la Mort / Teenage Caveman / Drive-in spécial Mars /Dans les Griffes du Vampire /The Monster of Piedras Blancas / La Tête Vivante / Destination Planète Hydra / Incubus / Les Monstres de l'Apocalypse / The Golden Bat / The Flying Saucer / Unknown World / Four Sided Triangle / X The Unknown / Les Enfants de l'Espace / The Crawling Eye & The Strange World of Planet X /  The Wasp Woman, The Hideous Sun Demon & The Alligator People / L'Île du Sadique / Les Yeux de l'Enfer / Le Monde, la Chair et le Diable / Le Jour où la Terre prit Feu / Frankenstein meets the Space Monster
Rejoignez le groupe des Échos d'Altaïr IV sur Facebook !