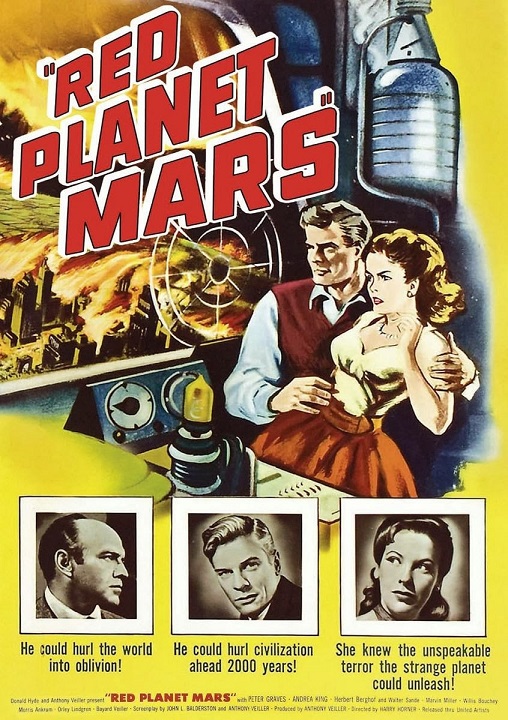 RED PLANET MARS
Année : 1952
Réalisateur : Harry Horner
Scénario : Anthony Veiller & John L. Balderston
Production : Donald Hyde & Anthony Veiller (United Artists)
Musique : Mahlon Merrick
Pays : États-Unis
Durée : 87 min
Interprètes : Peter Graves, Andrea King, Herbert Berghof, Walter Sande…
L'intrigue : Le monde panique lorsqu'un scientifique américain établit un contact radio avec Mars en utilisant un équipement développé par un criminel de guerre nazi. Lorsque les États-Unis reçoivent les messages d'une vie idéale sur Mars, où l'espérance de vie serait de 300 ans et où l'abondance agricole et l'efficacité énergétique seraient prodigieuses, les populations sont prises de panique…
Ah, les années 40-50, période où les nazis avaient tout inventé sans le savoir et même le moyen de communiquer avec les Martiens… À la base, le film de Harry Horner est l'adaptation d'une pièce de théâtre de John L. Balderston et John Hoare, « Red Planet » jouée en 1932, puis elle fut réécrite pour le film par Balderston et Anthony Veiller.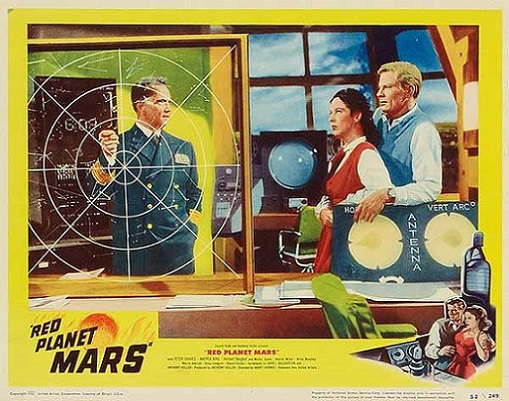 Peter Graves (STALAG 17, KILLERS FROM SPACE, IT CONQUERED THE WORLD et il est le vieux pilote des Y'A-T'IL UN PILOTE DANS L'AVION 1 & 2) et Andrea King se partagent les rôles principaux.
Si le coffret « Destination Mars » édité par Artus Films n'est pas épuisé, vous pourrez découvrir RED PLANET MARS avec des sous-titrages. En attendant, le voici en V.O. avec ses bons effets spéciaux d'époque et l'ambiance anxiogène autours de la planète rouge si l'on considère que celle-ci représentait le bloc communiste et le poids de l'inconnu en pleine Guerre Froide sur les frêles épaules américaines. Bon film !
- Trapard -
RED PLANET MARS en entier et en V.O. :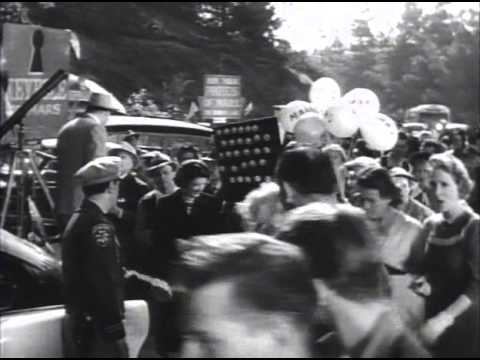 Autres articles publiés dans la catégorie Drive-in :
L'Oasis des Tempêtes / It Conquered the World / The Giant Claw / Bataille Au-Delà des Étoiles / Attack of the Fifty Foot Woman / Cat-Women of the Moon / Le Fantôme de l'Espace / Mesa of Lost Women / Gorilla at Large / The Amazing Colossal Man / The Beast with a Million Eyes / The Astounding She-Monster / The Deadly Mantis / La Fiancée du Monstre / Not of this Earth / The Night the World Exploded ! / Viking Women and the Sea Serpent / Curse of the Faceless Man / Le Peuple de l'Enfer / Rodan / Supersonic Saucer / World Without End / La Fille du Docteur Jekyll / The Monster that Challenged the World / Baran, le Monstre Géant / Frankenstein's Daughter / Giant from the Unknown / I married a Monster from Outer Space / How to make a Monster / J'enterre les Vivants / The Manster /King Dinosaur / Les Envahisseurs de la Planète Rouge / Ring of Terror /This is not a Test / Le Monstre vient de la Mer / La Cité  sous la Mer / The Beast of Hollow Mountain / Le Labyrinthe / L'Île Inconnue / Bride of the Gorilla /Lost Continent / La Légion du Désert / The Astro-Zombies / El Extraño Caso del Hombre y la Bestia / Le Renne Blanc & La Résurrection de la Sorcière /The Vampire & The Return of Dracula / Le Lac de la Mort / Teenage Caveman / Drive-in spécial Mars /Dans les Griffes du Vampire /The Monster of Piedras Blancas / La Tête Vivante / Destination Planète Hydra / Incubus / Les Monstres de l'Apocalypse / The Golden Bat / The Flying Saucer / Unknown World / Four Sided Triangle / X The Unknown / Les Enfants de l'Espace / The Crawling Eye & The Strange World of Planet X /  The Wasp Woman, The Hideous Sun Demon & The Alligator People / L'Île du Sadique / Les Yeux de l'Enfer / Le Monde, la Chair et le Diable / Le Jour où la Terre prit Feu / Frankenstein meets the Space Monster / Billy the Kid vs Dracula
Rejoignez le groupe des Échos d'Altaïr IV sur Facebook en cliquant ici !