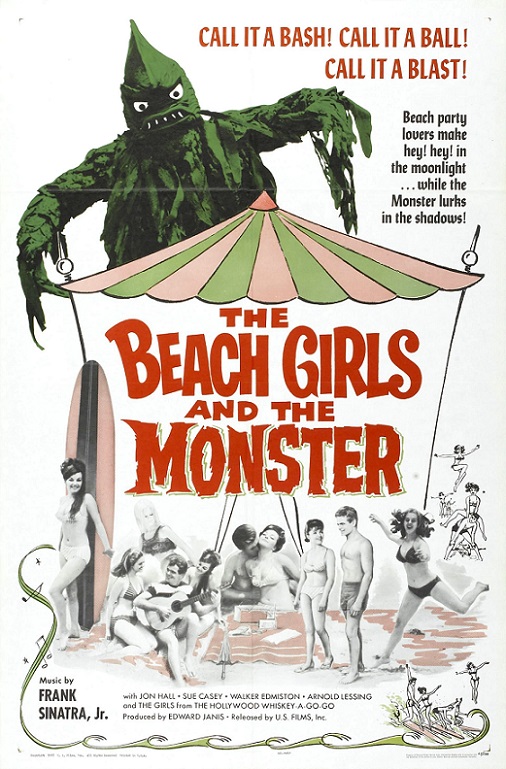 THE BEACH GIRLS AND THE MONSTER
Année : 1965
Réalisateur : John Hall
Scénario : Joan Gardner
Production : Edward Janis (U.S. Films)
Musique : Frank Sinatra Jr. & Chuck Sagle
Pays : États-Unis
Durée : 70 min
Interprètes : John Hall, Sue Casey, Arenold Lessing, Elaine DuPont, Walker Edmiston…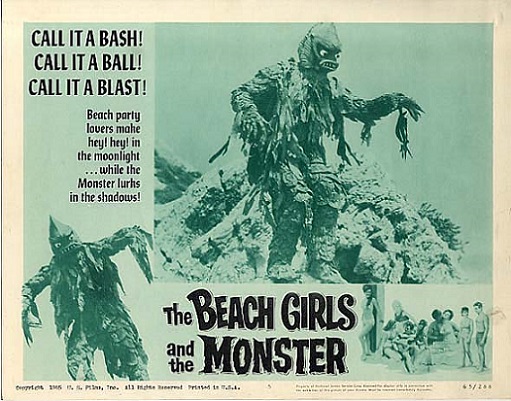 Sorti aux États-Unis en septembre 1965, THE BEACH GIRLS AND THE MONSTER de Jon Hall est un « Beach party film », c'est-à-dire, un teen-movie musical dont l'action se déroule sur des plages californiennes et incluant souvent des scènes de danses et de surf (quoique le "surf-film" est aussi un sous-genre à part entière). Vous trouverez généralement les mots "Beach", "Bikini", "Surf" ou "Muscle" dans les titres de ces séries B. Et parfois du Fantastique comme THE GHOST IN THE INVISIBLE BIKINI (1966) et quelques autres. La musique des Beach Boys et certains films d'Elvis Presley situés à Hawaï en sont aussi des dérivés. Les "Beach party films" sont à ne pas confondre avec les "Nudies" ou films de naturistes, et c'est par conséquent le mot "Bikini" et l'âge des comédiennes qui fait la différence…
L'intrigue : Des surfers sont brutalement assassinés. Le coupable est un monstre marin ou un parent jaloux des adolescents ?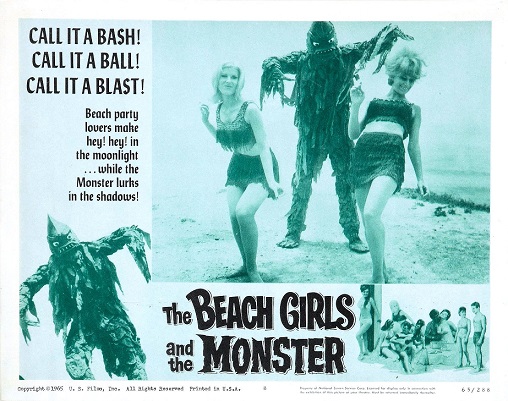 Autrement dit : AMSTERDAMNED (1988) vingt-trois ans plus tôt et en moins bon. Quoique, pour qui aime les ambiances familiales, teens & jazzy des Sixties, THE BEACH GIRLS AND THE MONSTER est un vrai régal. Et quoi qu'aussi, le film est nettement trop bavard si on s'attend à de régulières attaques de cette ÉTRANGE CRÉATURE DU LAC NOIR en caoutchouc mou et qui fait des plis. Mais ça reste une bonne curiosité pour les cinéphiles explorateurs. Et autant profiter que YouTube le propose en version complète pour se faire son idée.
- Trapard -
THE BEACH GIRLS AND THE MONSTER en entier et en V.O. :
Autres articles publiés dans la catégorie Drive-in :
L'Oasis des Tempêtes / It Conquered the World / The Giant Claw / Bataille Au-Delà des Étoiles / Attack of the Fifty Foot Woman / Cat-Women of the Moon / Le Fantôme de l'Espace / Mesa of Lost Women / Gorilla at Large / The Amazing Colossal Man / The Beast with a Million Eyes / The Astounding She-Monster / The Deadly Mantis / La Fiancée du Monstre / Not of this Earth / The Night the World Exploded ! / Viking Women and the Sea Serpent / Curse of the Faceless Man / Le Peuple de l'Enfer / Rodan / Supersonic Saucer / World Without End / La Fille du Docteur Jekyll / The Monster that Challenged the World / Baran, le Monstre Géant / Frankenstein's Daughter / Giant from the Unknown / I married a Monster from Outer Space / How to make a Monster / J'enterre les Vivants / The Manster /King Dinosaur / Les Envahisseurs de la Planète Rouge / Ring of Terror /This is not a Test / Le Monstre vient de la Mer / La Cité  sous la Mer / The Beast of Hollow Mountain / Le Labyrinthe / L'Île Inconnue / Bride of the Gorilla /Lost Continent / La Légion du Désert / The Astro-Zombies / El Extraño Caso del Hombre y la Bestia / Le Renne Blanc & La Résurrection de la Sorcière /The Vampire & The Return of Dracula / Le Lac de la Mort / Teenage Caveman / Drive-in spécial Mars /Dans les Griffes du Vampire /The Monster of Piedras Blancas / La Tête Vivante / Destination Planète Hydra / Incubus / Les Monstres de l'Apocalypse / The Golden Bat / The Flying Saucer / Unknown World / Four Sided Triangle / X The Unknown / Les Enfants de l'Espace / The Crawling Eye & The Strange World of Planet X /  The Wasp Woman, The Hideous Sun Demon & The Alligator People / L'Île du Sadique / Les Yeux de l'Enfer / Le Monde, la Chair et le Diable / Le Jour où la Terre prit Feu / Frankenstein meets the Space Monster / Billy the Kid vs Dracula /Red Planet Mars / La trilogie de l'OSI / The Werewolf / Les Créatures de Kolos /Target Earth / Space Master X-7 / La Femme Nue et Satan / Le Cri de la Mort /L'Homme et le Monstre / Teenage Zombies / La trilogie des mutants / Blood of the Zombie / Le Baron de la Terreur & Le Miroir de la Sorcière / Ataragon / The Incredibly Strange Creatures who Stopped Living and Became Mixed-Up Zombies
Cliquez ici pour rejoindre le groupe des Échos d'Altaïr IV sur Facebook !