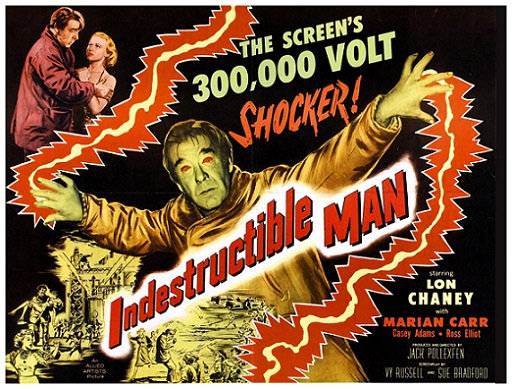 INDESTRUCTIBLE MAN
Année : 1956
Réalisateur : Jack Pollexfen
Scénario : Vy Russell, Sue Dwiggins
Production : Jack Pollexfen (C.G.K. Productions / Allied Artists Pictures
Musique : Albert Glasser
Pays : États-Unis
Durée : 72 min
Interprètes : Lon Chanet Jr., Max Showalter, Marian Carr…
Dans la lignée de MAN-MADE MONSTER (1941) aka L'ÉCHAPPÉ DE LA CHAISE ÉLECTRIQUE, de SHOCKER (1989) de Wes Craven, et d'ELECTRIC DRAGON 80 000 VOLTS (2001) de Sogo Ishii… ou comment l'électricité peut arriver à prendre le contrôle d'un corps humain.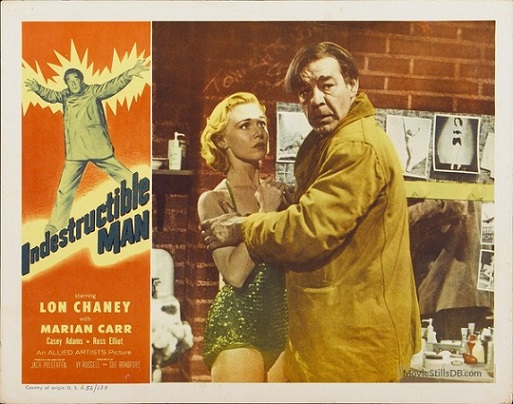 L'intrigue : Charles 'Butcher' Benton, un criminel dangereux, est condamné à mort sur la chaise électrique. Après son exécution, son corps est soumis à une expérience scientifique inédite : des chercheurs vont tenter de ramener le psychopathe à la vie à l'aide de courant électrique à haute tension…
INDESTRUCTIBLE MAN réutilisant sa star vedette (Lon Chaney Jr) ressemble presque à un remake de  MAN-MADE MONSTER. Mais derrière l'épopée tragique de cet homme électrique indestructible, s'ajoute une longue intrigue policière chère au « Film noir » très en vogue dans les années 40 (et ce, jusque dans le cinéma d'Ed Wood, mais de manière moins subtile).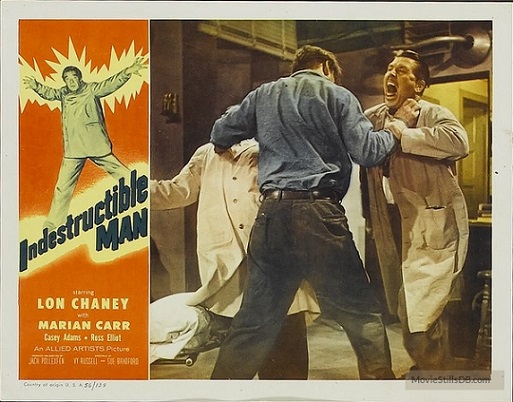 INDESTRUCTIBLE MAN est un film de série B, parfois maladroit, mais prenant de bout en bout. Lon Chaney Jr, déjà vieillissant, était dans cette période des Fifties, un peu dans l'ombre de ses grands succès de la Universal Pictures. Et cela s'en ressent jusque dans son jeu, souvent intense mais peu appliqué, certaines de ses interventions étant à la limite de la caricature ou du nanar.
- Trapard -
LE FILM COMPLET EN V.O. :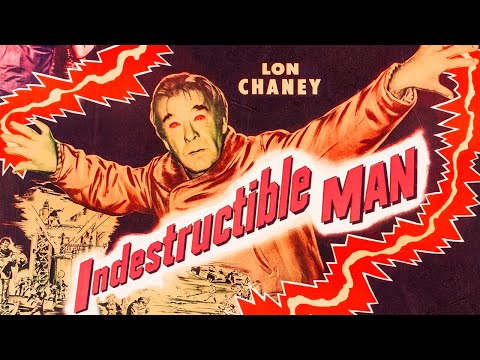 Autres articles publiés dans la catégorie Drive-in :
L'Oasis des Tempêtes / It Conquered the World / The Giant Claw / Bataille Au-Delà des Étoiles / Attack of the Fifty Foot Woman / Cat-Women of the Moon / Le Fantôme de l'Espace / Mesa of Lost Women / Gorilla at Large / The Amazing Colossal Man / The Beast with a Million Eyes / The Astounding She-Monster / The Deadly Mantis / La Fiancée du Monstre / Not of this Earth / The Night the World Exploded ! / Viking Women and the Sea Serpent / Curse of the Faceless Man / Le Peuple de l'Enfer / Rodan / Supersonic Saucer / World Without End / La Fille du Docteur Jekyll / The Monster that Challenged the World / Baran, le Monstre Géant / Frankenstein's Daughter / Giant from the Unknown / I married a Monster from Outer Space / How to make a Monster / J'enterre les Vivants / The Manster /King Dinosaur / Les Envahisseurs de la Planète Rouge / Ring of Terror /This is not a Test / Le Monstre vient de la Mer / La Cité  sous la Mer / The Beast of Hollow Mountain / Le Labyrinthe / L'Île Inconnue / Bride of the Gorilla /Lost Continent / La Légion du Désert / The Astro-Zombies / El Extraño Caso del Hombre y la Bestia / Le Renne Blanc & La Résurrection de la Sorcière /The Vampire & The Return of Dracula / Le Lac de la Mort / Teenage Caveman / Drive-in spécial Mars /Dans les Griffes du Vampire /The Monster of Piedras Blancas / La Tête Vivante / Destination Planète Hydra / Incubus / Les Monstres de l'Apocalypse / The Golden Bat / The Flying Saucer / Unknown World / Four Sided Triangle / X The Unknown / Les Enfants de l'Espace / The Crawling Eye & The Strange World of Planet X /  The Wasp Woman, The Hideous Sun Demon & The Alligator People / L'Île du Sadique / Les Yeux de l'Enfer / Le Monde, la Chair et le Diable / Le Jour où la Terre prit Feu / Frankenstein meets the Space Monster / Billy the Kid vs Dracula /Red Planet Mars / La trilogie de l'OSI / The Werewolf / Les Créatures de Kolos /Target Earth / Space Master X-7 / La Femme Nue et Satan / Le Cri de la Mort /L'Homme et le Monstre / Teenage Zombies / La trilogie des mutants / Blood of the Zombie / Le Baron de la Terreur & Le Miroir de la Sorcière / Ataragon / The Incredibly Strange Creatures who Stopped Living and Became Mixed-Up Zombies / The Beach Girls and the Monster / From Hell it Came & The Woman Eater / Voodoo Woman & Zombies of Mora Tau / Le Tueur au Cerveau Atomique / Ikarie XB-1 / Cinq Survivants / The Snow Creature & Snowman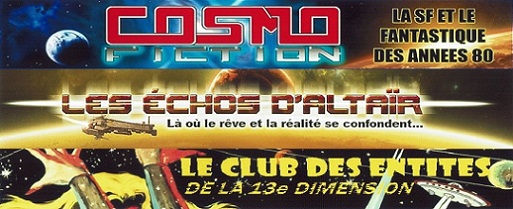 Cliquez ici pour rejoindre Le Groupe d'Altaïr IV sur Facebook !
Cliquez ici pour visiter les tableaux des Échos d'Altaïr sur Pinterest !
Cliquez ici pour visiter la chaîne YouTube des Échos d'Altaïr !
Cliquez ici pour accéder à la page Facebook publique des Échos d'Altaïr !
INDEX DU BLOG / GUIDE ALTAÏRIEN / CARNET GEEK NC
Pour contacter le blog : morbius501@gmail.com