Archives
Archive pour décembre 2018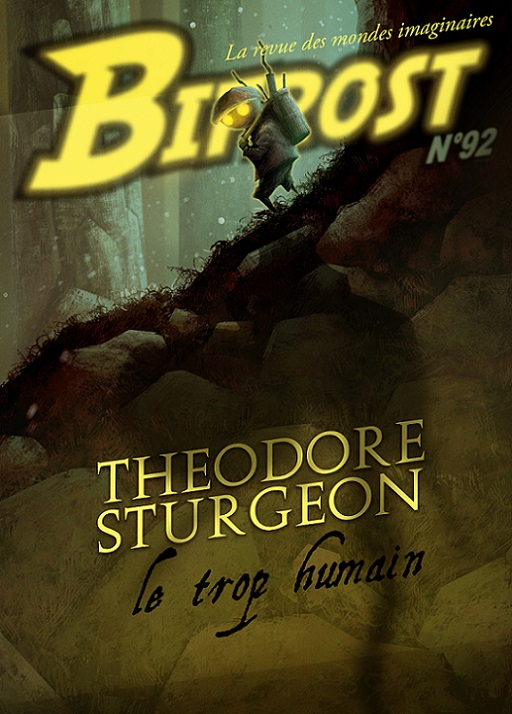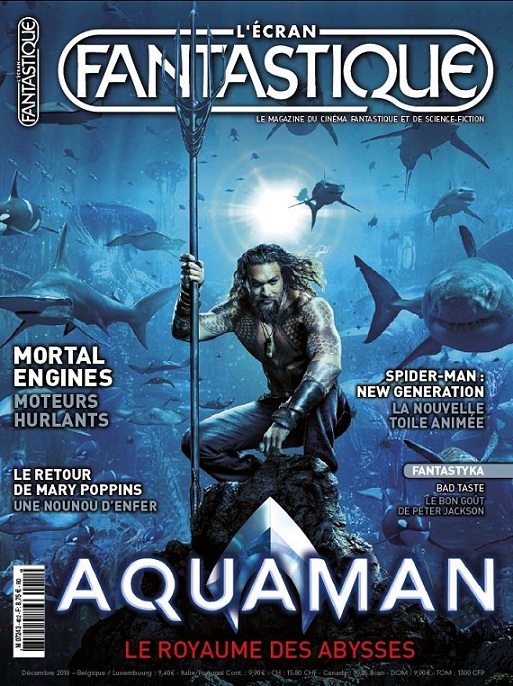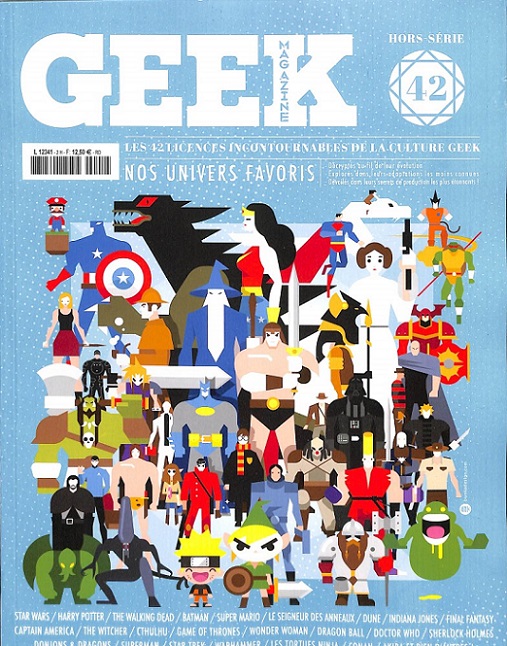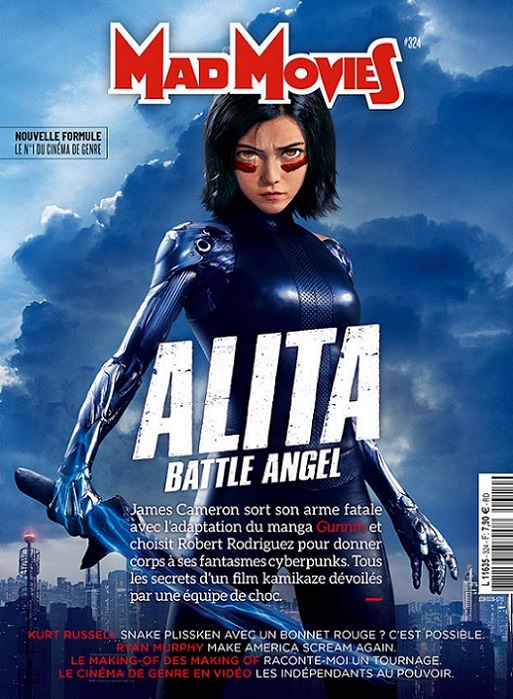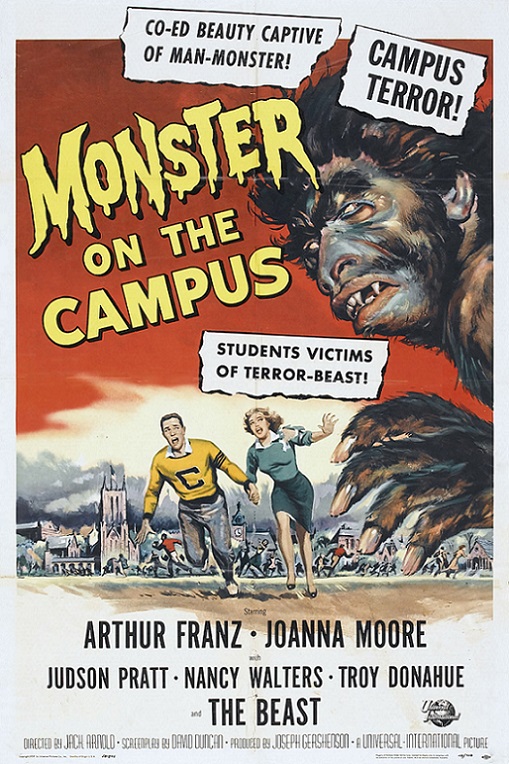 LE MONSTRE DES ABÎMES (Monster on the Campus)
Année : 1958
Réalisateur : Jack Arnold
Scénario : David Duncan
Production : Joseph Gershenson (Universal International)
Musique : 
Pays : États-Unis
Durée : 77 min
Interprètes : Arthur Franz, Joanna Cook Moore, Nancy Walters, Troy Donohue…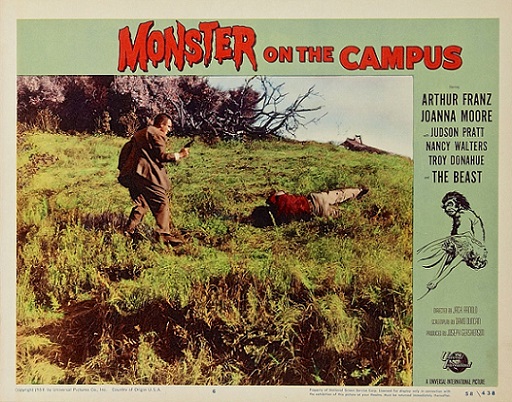 LE MONSTRE DES ABÎMES (ou LE MONSTRE DE L'ABÎME) est sûrement l'un des films de Jack Arnold les moins cités lorsqu'on met la carrière du réalisateur en avant. En effet, le film fut vendu comme un produit de drive-in par la Universal avec ce titre original bien ciblé : MONSTER ON THE CAMPUS.
L'intrigue : La terreur balaye le campus d'un collège après la découverte d'un poisson préhistorique qui transforme les animaux et les humains qui entrent en contact avec lui en monstres assoiffés de sang…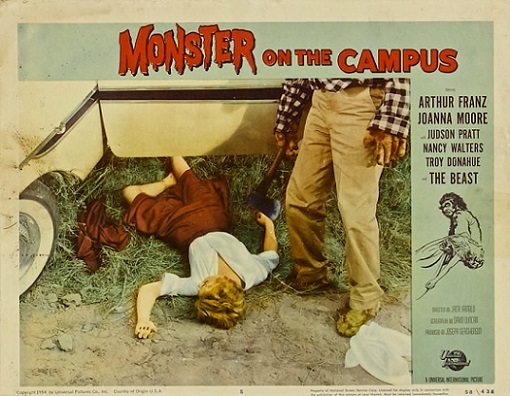 Le scénario scientifiquement très peu crédible place aisément MONSTER ON THE CAMPUS au rang de nanar, ce qui est bien dommage au vu de la qualité de la réalisation de Jack Arnold comme toujours. Les effets spéciaux et les scènes d'angoisse sont particulièrement réussis et l'ensemble remplit pleinement son contrat de divertissement horrifique pour drive-in. Derrière le postulat d'infection préhistorique (???) à partir du sang d'un cœlacanthe fossilisé, il y a tout de même matière à rigoler, même s'il y a quelques très bonnes idées qui modernisent autant les thèmes du vampire et du loup-garou au cinéma, lorsque par exemple le héros se transforme de manière cyclique ou lorsqu'un moustique se met à véhiculer du sang contaminé. Et c'est évidemment du côté de cette modernité que LE MONSTRE DES ABÎMES se situe, faisant suite au vampirisme moderne de  THE VAMPIRE (1957) et au lycanthrope chimiquement modifié de  THE WEREWOLF (1956).

Mais comme l'écrivaient déjà Dave Altou et S.B. sur ce blog, selon Jack Arnold « le scénario manquait d'épaisseur, mais le manque de temps souvent caractéristique de ce genre de petite production empêcha toute révision ».
- Trapard -
BANDE-ANNONCE :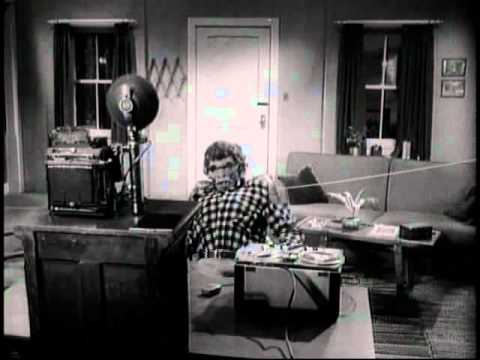 Autres articles publiés dans la catégorie Drive-in :
L'Oasis des Tempêtes / It Conquered the World / The Giant Claw / Bataille Au-Delà des Étoiles / Attack of the Fifty Foot Woman / Cat-Women of the Moon / Le Fantôme de l'Espace / Mesa of Lost Women / Gorilla at Large / The Amazing Colossal Man / The Beast with a Million Eyes / The Astounding She-Monster / The Deadly Mantis / La Fiancée du Monstre / Not of this Earth / The Night the World Exploded ! / Viking Women and the Sea Serpent / Curse of the Faceless Man / Le Peuple de l'Enfer / Rodan / Supersonic Saucer / World Without End / La Fille du Docteur Jekyll / The Monster that Challenged the World / Baran, le Monstre Géant / Frankenstein's Daughter / Giant from the Unknown / I married a Monster from Outer Space / How to make a Monster / J'enterre les Vivants / The Manster /King Dinosaur / Les Envahisseurs de la Planète Rouge / Ring of Terror /This is not a Test / Le Monstre vient de la Mer / La Cité  sous la Mer / The Beast of Hollow Mountain / Le Labyrinthe / L'Île Inconnue / Bride of the Gorilla /Lost Continent / La Légion du Désert / The Astro-Zombies / El Extraño Caso del Hombre y la Bestia / Le Renne Blanc & La Résurrection de la Sorcière /The Vampire & The Return of Dracula / Le Lac de la Mort / Teenage Caveman / Drive-in spécial Mars /Dans les Griffes du Vampire /The Monster of Piedras Blancas / La Tête Vivante / Destination Planète Hydra / Incubus / Les Monstres de l'Apocalypse / The Golden Bat / The Flying Saucer / Unknown World / Four Sided Triangle / X The Unknown / Les Enfants de l'Espace / The Crawling Eye & The Strange World of Planet X /  The Wasp Woman, The Hideous Sun Demon & The Alligator People / L'Île du Sadique / Les Yeux de l'Enfer / Le Monde, la Chair et le Diable / Le Jour où la Terre prit Feu / Frankenstein meets the Space Monster / Billy the Kid vs Dracula /Red Planet Mars / La trilogie de l'OSI / The Werewolf / Les Créatures de Kolos /Target Earth / Space Master X-7 / La Femme Nue et Satan / Le Cri de la Mort /L'Homme et le Monstre / Teenage Zombies / La trilogie des mutants / Blood of the Zombie / Le Baron de la Terreur & Le Miroir de la Sorcière / Ataragon / The Incredibly Strange Creatures who Stopped Living and Became Mixed-Up Zombies / The Beach Girls and the Monster / From Hell it Came & The Woman Eater / Voodoo Woman & Zombies of Mora Tau / Le Tueur au Cerveau Atomique / Ikarie XB-1 / Cinq Survivants / The Snow Creature & Snowman / Indestructible Man / Monstres invisibles / Caltiki, le Monstre Immortel / Le Dernier Rivage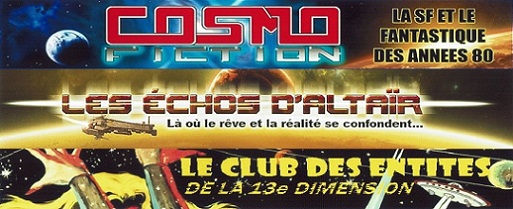 Cliquez ici pour rejoindre Le Groupe d'Altaïr IV sur Facebook !
Cliquez ici pour visiter les tableaux des Échos d'Altaïr sur Pinterest !
Cliquez ici pour visiter la chaîne YouTube des Échos d'Altaïr !
Cliquez ici pour accéder à la page Facebook publique des Échos d'Altaïr !
INDEX DU BLOG / GUIDE ALTAÏRIEN / CARNET GEEK NC
Pour contacter le blog : morbius501@gmail.com